Willamette Valley - the Perfect Growing Environment



hen the Willamette Valley was created, the perfect environment for seed production was made. Located 30 miles inland from the Pacific Ocean between the Coast Range on the west and the Cascade mountains on the east, the Willamette Valley enjoys fertile soils and a year-round temperate climate.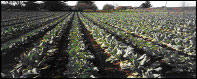 The Japanese current brings warm waters along the Pacific Northwest coast which helps give the Willamette Valley a moderate winter and a dry summer. The Valley receives an average annual rainfall of 1000 mm. This rain falls mostly in the winter months, with July and August receiving very little precipitation. Moderate winters allow an excellent environment for growing biennial crops which are planted in the fall and carried through the winter for vernalization. Dry summer months offer excellent harvesting conditions.
With little precipitation and low humidity during harvest time, the crops are dried naturally in the field to proper storage moisture content. No additional artificial after-harvest drying is usually necessary. This means excellent quality seed, both in viability and appearance.